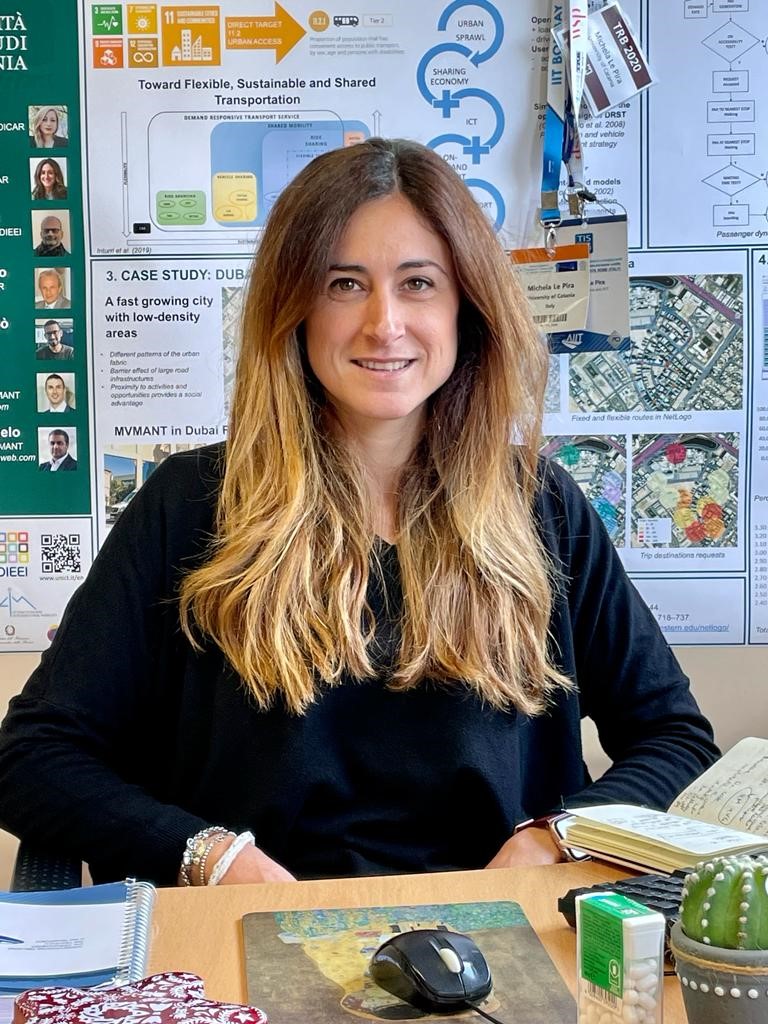 Michela LE PIRA
Assistant Professor of Transportation [ICAR/05]
Michela Le Pira (12/05/1988, Catania, Italy) is currently a lecturer/research fellow and Mobility Manager at the University of Catania, where she completed the bachelor studies in Civil Engineering in July 2010 and master studies in Water and Transport Engineering in October 2012, both with the highest marks.
She got her PhD in Transport, Hydraulic and Environmental Infrastructure Engineering (XXVIII cycle) since January 2016, with a thesis on public participation in transport planning supported by the use of agent-based models and multicriteria analysis methods.
As a PostDoc Researcher at the University of Roma Tre and subsequently at the University of Catania, her research focused on decision-support methods for developing sustainable policies to improve urban freight transport (discrete choice models) and on a dynamic information and communication system to improve the travel experience related to public transport, and reduce the gap between perceived and delivered service quality.
Currently, as a lecturer/research fellow, her research focuses on the study of innovative transport systems related to the new shared mobility paradigm and Mobility as a Service (MaaS), and on innovative transport policies to improve passenger and freight mobility.
Since her first publication indexed on Scopus / WoS in 2014, she has regularly published more than 60 peer-reviewed publications including articles, book chapters and peer-reviewed conference proceedings (from Scopus: h-index 23; 77 documents; 1440 citations - 01/08/2023). She attended numerous prestigious conferences related to transport research topics, including the 13th, 14th and 15th World Conference on Transport Research (WCTR), and she is also a member of WCTR since 2013.
Member of the Italian Association for Traffic Engineering and Transport (AIIT) and currently Head of the Study and Research Centre.
The research focuses mainly on the following topics:
- Transport planning, with particular reference to models and methods to support participated decisions and stakeholder engagement, including multi-criteria analysis, agent-based models and discrete choice models
- Sustainable mobility, climate change and transport energy dependence
- Methods and models for the design of pedestrian networks
- Urban freight transport and policies to promote the efficiency and sustainability of city logistics
- Analysis of the quality of public transport and information systems based on new technologies
- Innovative, shared and on-demand transport systems according to Shared Mobility and Mobility as a Service